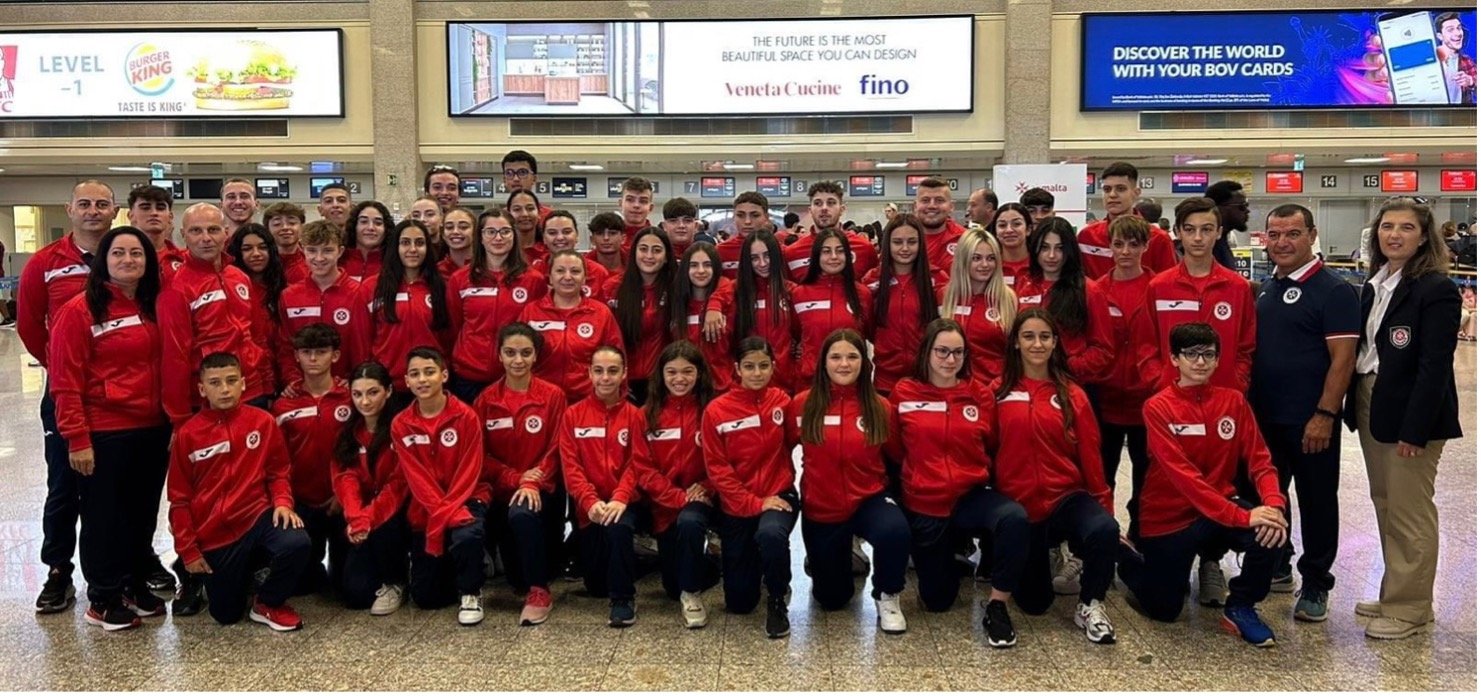 Malta Karate Federation has once again attained international recognition at the 9th edition of The Small States of Europe Karate Championships held in September at the Coque National Sports and Culture Centre in Luxembourg.  This event featured 337 athletes, spanning ages from 12 to adults, from nine different countries.
Malta was represented by 46 athletes, aged between 12 and 26, who delivered an outstanding performance in both Kata (form) and Kumite (sparring). MKF athletes secured 8 gold, 10 silver, and 9 bronze medals, earning Malta a commendable 4th place in the overall rankings.
The Maltese delegation was led by MKF Treasurer and IT Director Audrey Zammit, and included National Coaches Michelle Vella, Josef Antonelli and Joseph Mizzi who provided crucial support and guidance to the athletes.  The Malta Team was accompanied by National Referees Susan Sciortino, Elizabeth Grech, Frankie Vella, and Jason Edwards, led by Chief Referee and MKF Chairman Refereeing Commission, Anthony Zammit, who ensured fair play and upheld the highest standards of the sport.
Also present for this event were MKF President Mr. Kenneth Abela and MKF Technical Director Mr. Jesmond Schembri, underscoring the federation's commitment to the sport and its athletes.
'MKF senior athletes once again replicated previous successes in the senior section and dominated the Senior Open Category, winning both 1st and 2nd place. This continuous success in Senior Categories is the result of intensive investment in our elite youth athletes and is testament that karate remains attractive to younger adults in a world where older teens usually lose interest in their amateur sport. We are both committed and confident in having the right systems in place to retain our young talented athletes and help them transition successfully into their adult life whilst securing future successes in Senior Competitions'.   This was the comment of Technical Director Mr Jesmond Schmebri.
MKF President Mr Kenneth Abela added, 'The 2023 Small States of Europe Karate Championship served as a platform for athletes to showcase their talent, and Malta's impressive showing highlighted our determination in the sport. It was a testament to the hard work and commitment of the Maltese athletes and their support network, setting a positive tone for the future of karate in Malta'.
Mr Abela concluded by thanking SportMalta and Maltese Olympic Committee for their unwavering support.
Medal Winners
Individual Kata – 
Francesca Saliba
Jessica Vella
Jenna Awad Attia
Mikele Bonnici
Individual Kumite – 
Amy Cunningham
Halil Ibrahim Koska
Team Kata –
Jessica Vella, Francesca Saliba, Evie Roadley-Battin
Team Kumite –
Thyis Antonelli, Emma Mizzi, Kaya Sultana Valentine