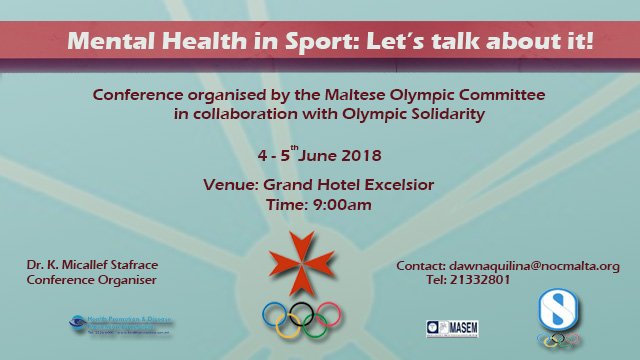 Building on the success of previous medical conferences, this year's event: Mental Health in Sport: Let's talk about it! brought together top international academics and practitioners to raise awareness of mental health issues in sport.
The intense mental and physical demands placed on elite athletes and coaches are a unique aspect of a sporting career, and these may increase the susceptibility of athletes to experience certain mental health problems. In addition to physical and competition stress, elite athletes and coaches also face a unique array of 'workplace' stressors, including the pressures of increased public scrutiny through mainstream and social media, limited support networks due to relocation, group dynamics in team sports, and the potential of injuries to end careers prematurely.
Athletes and coaches tend not to seek support for mental health problems due to reasons such as stigma, a lack of understanding about mental health and its potential influence on performance, and the perception of help seeking as a sign of weakness. While there have been efforts to disseminate sport-related mental health findings in order to advance the prevention, identification and early treatment of mental health problems in elite athletes, there are suggestions that some sporting governing bodies continue to minimise the significance of mental ill-health in this population. This has implications if elite athletes within such organisations are not provided with access to timely or adequate mental health care, or do not feel that the culture of the sporting organisation is such that they can raise their mental health concerns.
Within this backdrop, there is significant scope for coaches, team psychologists, medical doctors and sports administrators to focus on targeted screening and early detection, monitoring and intervention – especially at key risk periods such as significant injury, transition to retirement, and following performance difficulties. As the leading elite sport entity in Malta, we have taken the first step to shed light on such issues and we hope to establish a network of working professionals to guide us on how best to intervene in such instances.
This is an initiative that is brought to you with the full support of Olympic Solidarity.